---

Home
CQ-DATV magazine - ISSN 2059-2191
A compendium of all the DATVtalks to date (1 to 15) is now available from the eBooks page.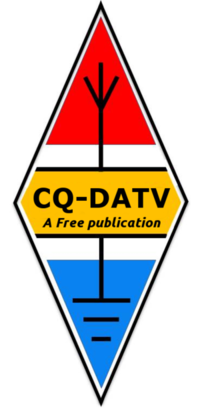 We are using this site to publish a free downloadable eBook magazine. The content of this magazine is related to ATV (Amateur Television) and although the site is called DATV (Digital Amateur Television), we will be covering, not only digital ATV, but all aspects of ATV. We have chosen the name of DATV so as to be easily distinguished from ATV which now seems to be a term for All Terrain Vehicles.
The format of CQ-DATV is optimised for eBook readers and mobile devices, but can also be read on a PC or Mac with free eBook reader software, see the readers page. eBooks are now appearing on the market for some very reasonable prices and by using these devices, this new magazine, can be circulated in a green, modern way that does not consume trees or clog the world up with plastic bags.
The main deference between the formats supported is that PDF is a fixed format and does not support text re-flow and so is not really suitable for the smaller screen devices.
You need an eBook reader to view these magazines. Information on suitable readers can be found on our readers page
---
About | Contact | Site Terms | Privacy Policy
This site is a cookie-free zone

Copyright © 2013 - 2023 by Ian Pawson
Page last modified: 5th August 2023 10:24:59 (syno918)